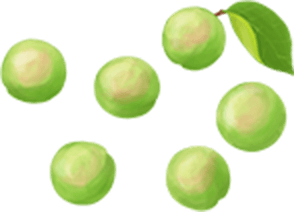 Poetry Composition
Ceremony
Re-enacting an ancient aristocratic pastime beneath the plum blossoms

Held on the first Sunday in March in the grounds of Dazaifu Tenmangu, this ceremony provides a glimpse of the elegance and refinement of courtly Japan during the Heian period (794–1185).

In ancient times, Japanese nobility composed verse outdoors. Occasionally they held gatherings in which they would sit beside a brook and try to finish a poem before a floating sake cup released upstream reached them.

In time, the game evolved into a ceremony at the Imperial Court. Sugawara Michizane, who is worshipped at Dazaifu Tenmangu, was a renowned poet himself and participated in the ceremony. The shrine held the ceremony for the first time in 958.
Today, the ceremony features a colorful parade of participants costumed like ancient nobility, entering the grounds to Shinto flute music, from along the shrine's main approach. After arriving at the plum grove where the ceremony takes place, the players sit along a stone-lined stream and re-enact the classical game, composing verse that is later sung to the crowd. You can watch the parade from along the main approach to the shrine or from the edges of the Shinji-ike pond. The ceremony starts at 12 p.m.
Date(s):
First Sunday in March